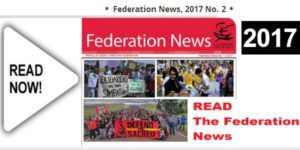 The latest Federation News is ready to read! – download it here.
Featuring reports, articles, analysis and prayer from:
Cairo conference on Peace-building in the Middle East and Overcoming Violence
Online General Assembly & constitutional amendments
Global programme on Identity, Diversity & Dialogue
Asia-Pacific, and Latin America & Caribbean
WSCF-Europe training course on combating hate speech
The un-settling work of indigenous solidarity: a North American perspective
Tributes to Senior friends

We are thankful for the ongoing work of the staff and volunteers throughout the regions of the World Student Christian Federation.
That All May Be One!