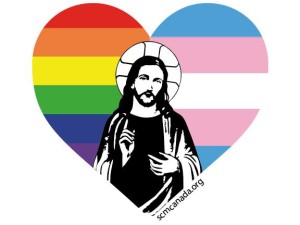 We know it can be lonely out there for some of our queer/trans family members and their supporters. So, if you're looking for resources, be it in Canada or the USA, we've got your back!
Here are some of our favourite Christian and secular resources for LGBTQ folks. And, if you have anything to add to our useful list of SCM approved organizations and services, drop us an e-mail!
Queer & Christian Without Contradiction
In 2007 the SCM created a multi-year campaign supported by the Liberty Hill Foundation, Queer and Christian Without Contradiction (QACWC). This included events, resource creation, and networking.
Queer and Christian Without Contradiction Bible_Study – five Bible Studies with accompanying resources, created by the SCM in 2007 as part of a campaign supported by the Liberty Hill Foundation.
Stop Homophobia in the Churches – This pamphlet looks at how scripture can be reclaimed to resist homophobia, and calls for affirmation and celebration of LGBTQ identities.
QACWC Facebook Group – an online community for support, discussion, and solidarity.
Trans-Affirming Resources
Take a look at these resources we've made to complement our newest devotional, Glory to the Gender-Bending God :
Events
All SCM events, on campus or elsewhere, are LGBTQ2IA+ inclusive and affirming. Our annual Cahoots festival is a great place to make connections and find supportive Christian community.
Other online resources
Check out – Our Bible App– a queer-friendly app to read the Bible with regular updates and new devotionals.
Online scholarships list for members of the LGBTQ* community.
Article on Gender Affirming Care for Youth
Database of Queer & Trans Inclusive and supportive organizations
You can search the database for specific terms using CTRL+F (for PCs) or COMMAND+F (for Macs).