SCM local units at the University of Toronto and York University work in partnership with like-minded faith groups and social justice groups to do stuff like: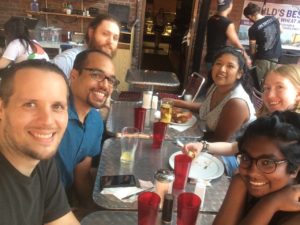 Weekly Radical Bible study
Open mics, coffee houses, movie nights and hangouts
Retreat days
Collaborative events supporting interfaith solidarity, decolonization, eco-justice and more
Faith spaces for LGBTQ+ Christians
Spaces exploring spirituality and mental health
Advocacy skill-building and public actions
 To hear about upcoming events, join the SCM at York facebook group or the SCM at U of T facebook group, and sign up for our email list!
Donate to SCM at University of Toronto – CanadaHelps
Donate to SCM at York University – CanadaHelps
Coordinator: Esther Townshend
Esther is an alumna both of York and U of T, who first connected with SCM while helping to organize the Cahoots Festival. She has a background in counselling psychology, but is most passionate about justice-seeking Christian communities – intentional and unintentional. Her roles in such communities have ranged from dish washing to worship leading to protest organizing. She enjoys writing, contemplative prayer, community kitchens, and creative actions for justice and peace.
Email: esther@scmcanada.org