"Everyone Belongs in the Kitchen" is the tagline of the Student Christian Movement's September retreat this year. What kitchen? And, who is 'everyone'?
The phrase comes from a joke that exists in multiple memes online, which takes the tired sexist dismissal 'Women belong in the kitchen' and draws it out:
Women belong in the kitchen.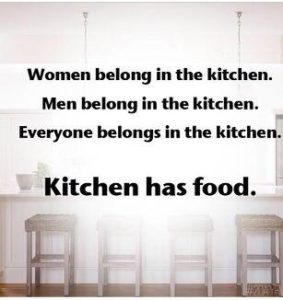 Men belong in the kitchen.
Everyone belongs in the kitchen.
Kitchen has food.
Based on SCM practice, I can confidently say that we applaud both undermining sexism and spending time in the kitchen. Preparing food and eating together is an important gathering practice, and we like witty memes.
But, if the kitchen isn't accessible to everyone, even if everyone is welcomed at the table, it falls short of belonging. Our physical spaces and our social structures echo each other – sometimes oppression looks like a set of steps or an embedded image on a website with no plain text description.
SCMers would also try to push beyond the implied gender binary, to ensure that 'belonging' also applies for trans*, genderqueer, nonbinary and intersex individuals. It's important that 'everyone' does not silence or erase the differences we have in our midst.
In the same way, we join the chorus that says 'Black Lives Matter', rather than 'All Lives Matter', because naming the absolute value and significance of Black people and communities is our responsibility when practices and policies of police and society uphold racism and violence as 'business as usual'. 'All lives' are not threatened, devalued, and ended. Black lives are.
But I digress. We chose 'Everyone Belongs in the Kitchen' for our event because:
our program includes preparing and sharing food, reflecting on this as a practice of communion and solidarity, and;
we plan to read a stunning poem-prayer by George Ella Lyon that speaks of this universe as God's Kitchen, and;
we believe that everyone has a place in God's kitchen, and;
we have to create this kitchen where everyone belongs, consciously and carefully.
This is our intention. Not just to create a space of belonging, but to expand our ideas of what belonging means, practicing the skills and building the relationships to support this holy, necessary, work.
~ Peter Haresnape, SCM Canada General Secretary
We invite you to join us, or recommend a friend participate in A Pinch of Salt: Everyone Belongs in the Kitchen on Sept 23, Toronto Island. The Church of St Andrews-by-the-Lake is an accessible space.
Tickets are available – $25 for lunch, ferry ride and workshops (price reduced by kind support of SCM York and SCM Toronto). Contact us if cost is a barrier!
Download the poster: A Pinch Of Salt