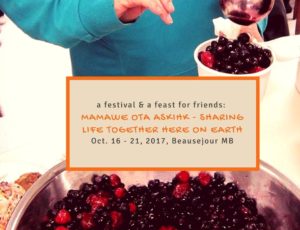 Mamawe Ota Askihk – Sharing Life Together Here on Earth
October 16-20 – small group
October 20-21 – overnight SCM retreat
October 21 – larger event
Beausejour, Manitoba
Sandy-Saulteaux Spiritual Centre, Ploughshares Community Farm, Canadian Mennonite University, Student Christian Movement & the Feast for Friends partners present : a festival & a feast for friends
Gather with Indigenous community leaders and settler allies to to reclaim the homebred, the homespoken, the homegrown, and the homemade.
Come root yourself in an understanding of the land as our health. Share in the spiritual teaching, laughter, and new learning. And most importantly, taste the beauty of friendships formed through nurturing one another as the earth nurtures us.
October 16 – 20: A week-long festival where we'll winnow wild rice, tan an animal hide, smoke fish, can berry preserves, share skills and tell stories.
October 21: The "Feast for Friends" will wrap up our week with a day of games, ceremony, show & tell, and of course, sharing good food together.
To register and learn more, see the Sandy-Saulteaux Spiritual Centre Website
To participate in a Friday night retreat for SCMers, contact info@scmcanada.org