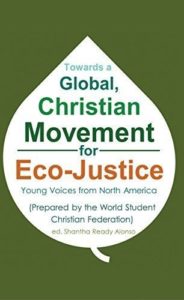 Eco Justice Resource
WSCF has published a compilation of student essays and prayers entitled Towards a Global, Christian Movement for Eco-Justice. The book highlights the interconnectedness of ecological justice and human rights, as environmental destruction is often most devastating to those living in poverty. Contributions include prayers of lament and thanksgiving, stories from specific communities facing injustices, personal reflections, and calls for action. The book is available from SCM Canada for a recommended $10 donation.
Copies are also available online: Christian World Imprints or Indian Society for Promotion of Christian Knowledge
Seeking Contributors – Racial Justice and Indigenous Peoples Rights
On a similar note, the WSCF-North America is seeking young adults, students, and partners interested in contributing a chapter, article, or reflection for a new book on racial justice and indigenous people's rights.
Interested parties should send their piece in a Word document for edits by August 31st. Please share this information with your passionate writer friends. Specifications are outlined here.
For more information, contact Luciano Kovacs (WSCF Executive for North America, Program Director for Advocacy & Solidarity) at wscfna@gmail.com.