On Thursday, July 7, 2016, SCM joined a contingent walking 1700 steps to Queen's Park to present a 35,000 signature petition. In solidarity with the Free Grassy campaign, the petitions call for Premier Wynne to commit to cleaning up the English-Wabigoon river system that flows through the Grassy Narrows First Nation.
The petition was organised by Leadnow, and the march included speakers from Council of Canadians and unions. The march of 1700 steps signified the 1700 km that youth from Grassy Narrows travelled for June's River Run to make the same demand. The petition pages filled a canoe that led the procession and drew lots of attention!
Over forty years ago, the river was polluted when the Dryden paper mill dumped nine tons of liquid mercury. The mercury continues to contaminate the water and the fish, causing sickness and death within the community, and despite years of Grassy Narrows' residents and supporters demanding action, Ontario has failed to take action.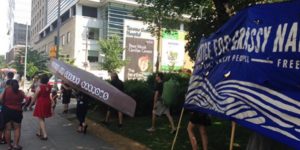 SCM has been involved in supporting the biennial River Run organized by Free Grassy, and marched in solidarity with youth and elders from Grassy Narrows this June, arranging a prayer gathering ahead of the march to rally support.
To learn more, visit http://freegrassy.net/, read this article, or sign Leadnow's petition.