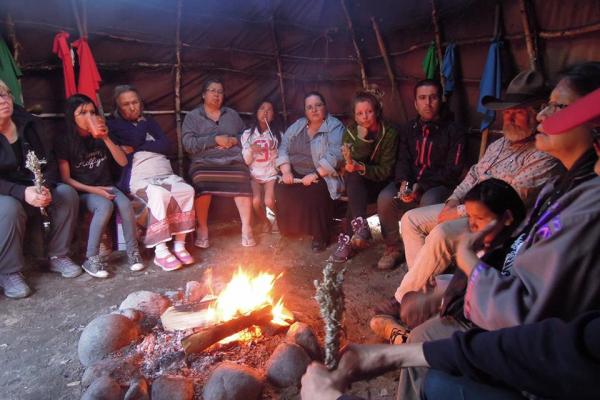 People of all faiths are welcomed to take part in this short-term learning and solidarity delegation. There will be a specific focus on Christian and Jewish responsibilities to the work of undoing colonialism.
Dates: August 15 – 24th, 2019
Departs from: Winnipeg, MB, Treaty 1
What can our faith traditions teach us about reconciliation, solidarity, and the current struggles of Indigenous peoples? How can we stand in solidarity with Indigenous communities resisting colonial oppression?  
For years, Anishinaabe people in Treaty 3 have, and continue to, defend their land, water and way of life. Community members resist imposed colonial crises, such as mercury contamination of the English-Wabigoon river system 50 years ago which continues to poison fish – a traditional food staple. In 2002, Grassy Narrows residents set up a blockade against clear-cut logging on their traditional territory which continues to halt logging on their land today. 
This trip will draw specifically on Jewish and Christian histories and perspectives, with two leaders, one from each faith background. With the delegation being open to all faiths and beliefs, as always, all are welcome to participate and contribute from your respective traditions. 
Starting in Winnipeg, MB (Treaty 1), delegates will meet with community organizers, Indigenous rights advocates, and leaders in Grassy Narrows and Kenora, ON (Treaty 3). Delegates will undertake an analysis of colonialism, participate in anti-racism exercises, and critically reflect on how to live in right relations with the Earth and their Indigenous neighbours.
Provided meals will be kosher-style. Dietary needs and spiritual practices will be accommodated as much as possible. For specific questions, please email ips@cpt.org.
This trip is jointly organized with Student Christian Movement and the Christian Peacemaker Teams Indigenous Solidarity Project.
Apply through the CPT Delegations Site
2018 delegation members said:
"The delegation brought me face to face with racism and oppression. This face to face experience is only the beginning in helping me to undo the past and I am now even more aware. I will work harder to be an ally."
"If I had to highlight one thing I would say it would be the experience of the Women's Gathering at Grassy Narrows. Being immersed in the culture, witnessing the different ceremonies and spending time in conversation with the Indigenous peoples gave me a deeper understanding of the beauty of their culture but also gave me a deeper understanding of the effects of colonization."