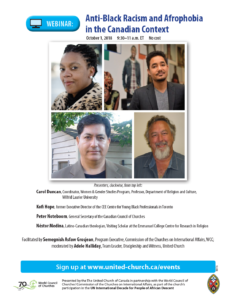 As part of the United Nations Decade for People of African Descent, the United Church of Canada is convening a free webinar on Anti-Black Racism and Afrophobia in the Canadian Context.
October 1, 2018, 9:30–11 a.m. ET. Register here
For more information, click here
Presenters, clockwise, from top left:
Carol Duncan, Coordinator, Women & Gender Studies Program, Professor, Department of Religion and Culture,
Wilfrid Laurier University
Kofi Hope, former Executive Director of the CEE Centre for Young Black Professionals in Toronto
Peter Noteboom, General Secretary of the Canadian Council of Churches
Néstor Medina, Latino-Canadian theologian, Visiting Scholar at the Emmanuel College Centre for Research in Religion
The panel will be facilitated by Semegnish Asfaw Grosjean, Program Executive, Commission of the Churches on International Affairs, WCC; and moderated by Adele Halliday, Team Leader, Discipleship and Witness, United Church.
The webinar is free of charge, and no advance registration is required, although you are advised to sign up early to get information on how to join, by clicking here.