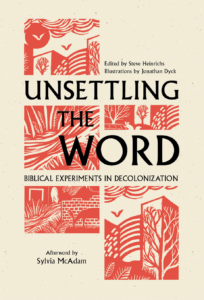 The Student Christian Movement of Canada, in partnership with Mennonite Church Canada, has released a new Study Guide to aid groups in 'Biblical Experiments in Decolonization'. Can you form a small group to explore this new book?
Unsettling the Word: Biblical Experiments in Decolonization
ed. Steve Heinrichs, illust. Jonathan Dyck
For generations, the Bible has been employed by settler colonial societies as a weapon to dispossess Indigenous and racialized peoples of their lands, cultures, and spiritualities. Given this devastating legacy, many want nothing to do with it. But is it possible for the exploited and their allies to reclaim the Bible from the dominant powers? Can we make it an instrument for justice in the cause of the oppressed? Even a nonviolent weapon toward decolonization?
In Unsettling the Word, over 60 Indigenous and Settler authors come together to wrestle with the Scriptures, re-reading and re-imagining the ancient text for the sake of reparative futures.
Created by Mennonite Church Canada's Indigenous-Settler Relations program, Unsettling the Word is intended to nurture courageous conversations with the Bible, our current settler colonial contexts, and the Church's call to costly peacemaking.
The Student Christian Movement of Canada has created a Study Guide which is available for free (download PDF).
Read an article about the book by John Longhurst.
To order a copy of the book, with shipping free for more than 1 copy, go to CommonWord.ca