Are you passionate in the pursuit of justice? How do we sustain a movement to tackle generational issues?
We are looking for young adults who are integrating justice work and spirituality to participate in an evening conversation: In Pursuit of Justice.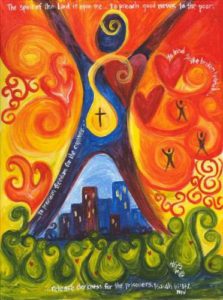 June 22, 2018, 7-9pm
Multi-Faith Centre, University of Toronto, 569 Spadina Ave.
The Student Christian Movement is joining the Women's Inter-Church Council's 100th Anniversary Conference: 'The Joy of Justice' for this one-off event, where we will develop tools that explore contemporary justice movements and bring new insights from the struggles against racism, social and economic injustice, colonialism, and gender violence.
How do we draw upon the wisdom of 100 years pursuing justice to address the concerns of our day?  Join this spirited exploration of a society built on the foundations of justice and right relations!
In the Gospel of Luke, Jesus begins his ministry by sharing the deep dreams of the prophets who came before him, presenting the words of Isaiah as his 'mission statement' and offering them as challenge to his peers. We will also begin with this ancient challenge and invitation.
Reserve a free ticket for 'WICC 100: In Pursuit of Justice'
June 22, 7pm – 9pm
Multi-Faith Centre, University of Toronto, 569 Spadina Ave
The Multi-Faith Centre is an accessible venue. If we can offer accommodations that will support your participation, please get in touch. Light refreshments will be provided. This is a free event, but pre-registration through Eventbrite is requested.
This event is organized by an ecumenical coalition of Christians, many of whom are settlers on this land. Our event is open to all participants, inclusive of gender expression and identity, sexual orientation, physical capacity, belief system, spirituality or upbringing, ethnicity or citizenship. We gather with gratitude on Anishinabe, Haudenosaunee, and Huron-Wyandot territory, and we seek to begin our justice work with a commitment to work towards decolonial relations.
"The Spirit of the Lord is upon me, because God has anointed me to proclaim good news to the impoverished. God has sent me to proclaim liberty to the captives, and recovery of sight to those who cannot see, to release those who are oppressed, and to proclaim the year of the Lord's favour" – Luke 14