Community organizer, single mother, and advocate Lucy Francineth Granados is in detention facing deportation from Canada in a matter of days despite a public campaign for her to remain among her community in Montreal.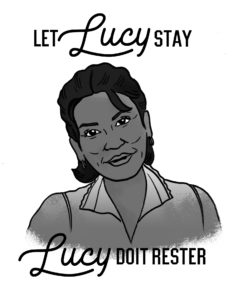 Since four Canada Border Services Agency (CBSA) agents violently arrested her on Tuesday March 20th, leaving her with a badly injured arm, Lucy has been treated with violence and total inhumanity by the CBSA. Lack of sleep, fear, confusion and the appalling conditions of her detention following her arrest led to two emergency hospitalizations, on the 26th and on the 29th.
Lucy has been resident in Montreal for 9 years, coming from Guatemala seeking refuge in a harrowing journey. Last year she filed a humanitarian application for permanent residence in an attempt to regularize her status. This is when she came to the attention of the CBSA who then sought to arrest her before her file could even be studied by Immigration Canada. Lucy's attempt to regularize her status made her a target for the CBSA.
Sign the petition here to stop her impending deportation
Read more about Lucy's case and the campaign to support her safety at this website