As spring creeps closer, we start to think about our favourite gathering in the year, the Cahoots festival, where we gather as a community of Jesus-focused seekers oriented towards justice with a 'DIY' methodology – creating an event that models a society of right relationships, practicing the skills and habits of Shalom/holistic peacemaking, and releasing participants to create change in our world.
This year, the 5th annual festival, we are taking a deep breath and embracing a retreat format. We'll be having moderated conversations and main speakers to help make space for connection around important conversations about who we are and where we're going.
Each year we've all worked hard and pitched in – from leading worship, washing dishes, arranging carpools and applying for grants – and now it's time to consider – what is this festival we have created? What is God calling us together to do? What do we need to do the work with grace, joy, and sincerity?
Will you join us for this festival retreat?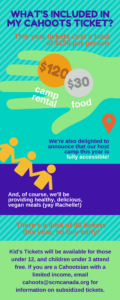 Location and tickets
We are very excited to be partnering with Cedar Ridge Camp, after a long search for the most accessible campsite that shares our values. Cedar Ridge is also home to Camp Micah so it comes highly recommended.
We are limited to 80 tickets this year, so please book early if you're joining us.
Our basic ticket costs $150, with a discounted children's ticket and options for folks with limited income – email cahoots@scmcanada.org to inquire about subsidized tickets!
And, as always, we rely on donations and grants to help cover additional costs. Please make a donation via the Student Christian Movement (mentioning Cahoots), or when you buy your ticket. Donations over the cost of tickets are tax-deductible!
Schedule and speakers
The festival will welcome three main speakers who will address our theme this year – leaning into discomfort. To have important conversations implies entering into spaces of discomfort, and we need to know why we're doing this, and how to do it well.
We'll also have a variety of moderated conversations to explore the theme and consider what leaning into discomfort looks like in your context.
And as ever, we'll have workshop time to share craft and creativity, bonfires and music, games, dancing and amazing meals!
Our schedule will be oriented around times for worship, contemplation and prayer – with morning gatherings and a Sunday service.
We welcome your ideas, participation and enthusiasm for any of these pieces! To discuss how you can contribute, email cahoots@scmcanada.org.
And don't forget – pick up your ticket!