Student Christian Movement Retreat: A Pinch of Salt: Everyone Belongs in the Kitchen!
– Reflection from Michiko Bown-Kai, Social Justice and Outreach Coordinator at Bloor Street United.
As someone with many connections to the people involved with SCM Toronto but not having had the
opportunity to participate much in the past, I looked forward to finally joining SCM for their fall retreat: A Pinch of Salt, September 23, 2017. It proved to be an excellent opportunity to get to know the SCM community better. The retreat was a blend of new and long-time SCM members that was very welcoming.
A Pinch of Salt was a great opportunity for me to continue the process of integrating my faith and activism. Part of this integration came from being part of a community that was modelling their commitment to social justice. For example, we were joined by Dr Bob Phillips, a Mi'kmaq elder, who helped us in acknowledging the traditional Indigenous territory on which we gathered. I appreciated that later in the program, everyone had the chance to be in deeper conversation with Bob, which encouraged relationship building beyond the acknowledgement.
Another part of integrating faith and activism came in the form of attending a workshop that included very insightful and concrete information about engaging in nonviolent direct action. While prayer can be a helpful way to discern the work God is calling you to do in the world, it's also always helpful to have community to talk through some of the important and practical skills needed to carry out the work. I left the workshop feeling less mystified by direct action, and ready to find new ways to become more involved.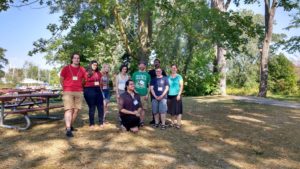 Rather than the whirlwind of many conferences that often leaves you feeling equally invigorated and exhausted afterwards, the retreat to Toronto Island felt like a meditative time to enjoy the beautiful weather and our time spent in community had a wonderful balance of conversation, workshop, and time to cook and make art. I noticed that instead of being in my head all day, which often happens at Christian conferences and retreats, I felt much more grounded in my body through the opportunities to cook and different role-playing exercises during our workshops.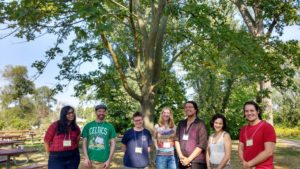 What struck me most about the day was how incredibly peaceful I felt. The intimate size of the group gathered created space for us to get to know each other in a way that was organic and full of humour. Despite being a small group of people, I appreciated how much diversity was present including people from many parts of the world and many different Christian denominations. At lunch, I appreciated how this diversity enriched the conversation where people spoke to each other with openness and a shared appreciation to talking through difficult questions.