September 21, 2017, 7:00 – 9:00 pm
Please join us to hear an update about the WSCF from Luciano Kovacs, North American Staff for the World Student Christian Federation.
This is also an opportunity to celebrate and thank Luciano for his almost ten-year contribution to the leadership of the WSCF in North America and the global Federation before he leaves WSCF at the end of December.
Peter Haresnape, Coordinator of the SCM in Canada will also bring us an update. All welcome.
Christie Gardens
600 Melita Cres.
Toronto
Recreation Room, Lower Level
7:00-9:00 p.m.
RSVP andersonbetsy528@gmail.com or 416-656-6064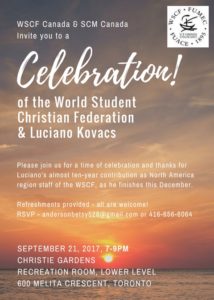 2017 09 21 Celebration