Join us, June 15-19, 2017 in Winnipeg, Treaty 1, homeland of the Ojibwa, Metis & Cree nations
Indigenous Solidarity Trip: June 15-19
In keeping with the advocacy themes of Racial Justice & Indigenous Rights, the North America region of WSCF is hosting an Indigenous Solidarity programme in Winnipeg, Manitoba this June.
Up to 20 students and young adults from across Canada and the United States will be immersed in issues of racial justice and right relations, Indigenous solidarity, Indigenous theology and theologies of settlers' solidarity, economic and eco-justice for Indigenous people, mass incarceration of Indigenous people in Canada, the Truth and Reconciliation Commission on Residential Schools in Canada and other relevant topics.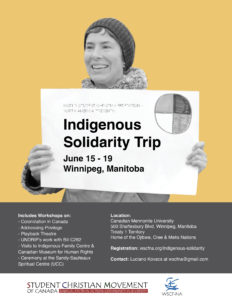 Interested in attending?