SCM Edmonton held a storytelling event called Women in the Bible where four women of the Abrahamic faiths came together to talk about remarkable women from our histories.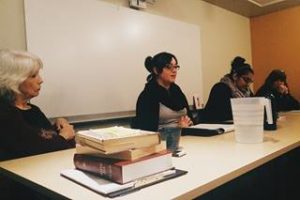 Autumn Reinhardt-Simpson shared the story of Sarah and Hagar's tempestuous relationship;
Dr Mona-Lee Feehan of St Joseph's College told the Nativity story from the perspective of the midwife;
Netta Philet, executive director of the Edmonton Interfaith Centre, talked about Rachel and Leah from a Jewish perspective;
and Salima Versi, a PhD candidate at the University of Alberta, told us of Zainab, granddaughter of the prophet Muhammed.
SCM Edmonton coordinator Wynne explained "telling these stories is important in reclaiming our value and contributions as women from the deeply patriarchal and misogynistic texts that teach us our religious heritage. They are women of strength, tenderness and resilience and their stories empower. While there was no intentional continuity, each story tied to the others with the thematic suggestion of holy blood."
The January 24 event was a success, with a small but fascinated audience. We will be doing this again!