The Politics of Migration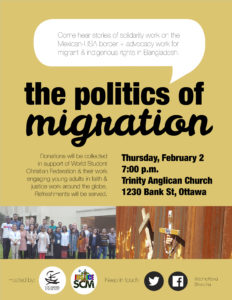 Thursday, February 2, 7:00pm
Trinity Anglican Church
1230 Bank St, Ottawa
An evening hosted by the Student Christian Movement of Ottawa about the World Student Christian Federation (WSCF)'s educational and advocacy work on migrant justice in North America and in the world.
Featuring; Zaya Kuyena, United Church of Canada Ottawa-based representative;
Luciano Kovacs, WSCF Executive for North America and Program Director for Advocacy and Solidarity
They will share their experiences of the WSCF Inter-regional Leadership Training Program on Migrant Justice and Indigenous People's Rights in Dhaka Bangladesh, and at the WSCF-NA Border Solidarity Program in Tucson and Nogales, Arizona, USA in conjunction with Borderlinks.
This evening will also be a fundraiser for the WSCF to support the continued work of student and young adult engagement in faith and justice. Refreshments will be served.
Please, share with your contacts in Ottawa and encourage friends to attend!