We remember John Anderson, a long time friend to the Student Christian Movement, who passed away on June 2nd. We celebrate his life!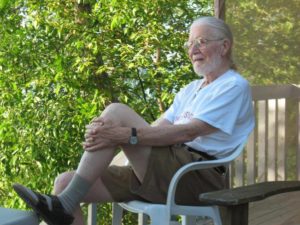 John born was born in 1925 in Madras, India. He reached the end of this life in Meaford Hospital on June 2, 2016.
Returning from India via Scotland to Canada in 1926, John lived in Brandon, Halifax, Saint John and Toronto before serving in the army and attending Victoria University and then McGill where he studied theology and experimented with other SCMers in cooperative living and a "worker priest" approach to ministry. Like many of their friends, it was through the SCM that John first met Muriel and began their long life together. Following his 1953 ordination into the United Church ministry, and serving parishes in Quebec, John and Muriel continued their social justice ministry commitment in Toronto, sharing a home with many at Howland House for twenty years. In 1963, John joined his love of books and theology, beginning more than 20 years of service at the SCM Book Room.
John and his family kept their Maritme roots strong through summer visits to Muriel's home in Long Reach, New Brunswick where he deepened and shared his love of and awe for God's creation. They were drawn to the Beaver Valley in 1971, the scene of much gardening, skiing, hiking, family time, and active community engagement.
Beloved by his family and many friends in the Beaver Valley, Toronto and the Maritimes, John will be deeply missed. He leaves us with many stories to tell and wisdom to emulate. We celebrate with gratitude a long life, well-lived, with Muriel, his life partner of 65 years.
John will be interred at Fern Hill Cemetery in Saint John, New Brunswick at 2:00 p.m. on August 5, 2016.
John's family wish to thank the nurses, doctors and staff of Meaford Hospital for their compassionate care of our Dad and ourselves in his final days. Family flowers only, but donations are welcome to Grace United Church, Project Ploughshares, and The Student Christian Movement of Canada, directly or through www.fergusonfuneralhomes.ca/.