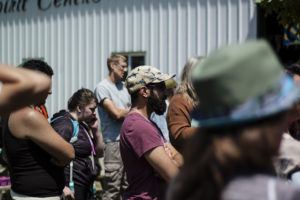 For the third year in a row, SCM and friends have gathered to learn, build, worship and celebrate at the Cahoots festival.
From June 9-12 we met at Camp Kenesserie on the shores of Lake Erie, territory of the Attawandaron (Neutral), Haudenosaunee and Anishinabe peoples.
Each morning we met for prayer, reflection on the themes of Think, Pray & Love, and song, with our theme song 'God's Counting on Me, God's Counting on You' from the immortal Pete Seeger.
Our workshops shared an array of skills and talents on some fascinating themes – everything from Seed Saving to Racism in Social Media, from the Enneagram to the fight for a $15 minimum wage.
In the evenings we played board games, enjoyed camp fires, worked through deep conversations, formed friendships, and listened to great music from artists like Diem Lafortune and Din and the Soles.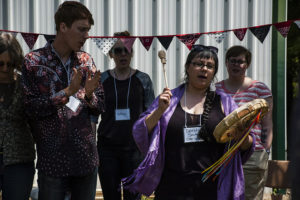 On Sunday morning we celebrated communion, administered to us by some of the children at the festival, and reflected on the powerful themes we had heard. Worship coordinator Esther Townshend shared her poem/reflection 'Home', which you can read here by popular demand.
Many of us were especially grateful for this time of solidarity and safe space as the news of the Orlando massacre came to us on our final day. A world without violent power is possible. A world where all lives are respected and where all people can be safe is possible. Cahoots exists to teach the skills to create that world and share with the spiritual power to help us endure.
We hope you will be able to join us for future Cahoots festivals – connect with us here:
Cahoots on Facebook
Cahoots Website
In the meantime, enjoy this beautiful collection of photographs from our friend Lyf Stolte, and consider joining us for our Turning Tables young adults retreat, Sept 30-Oct 2.