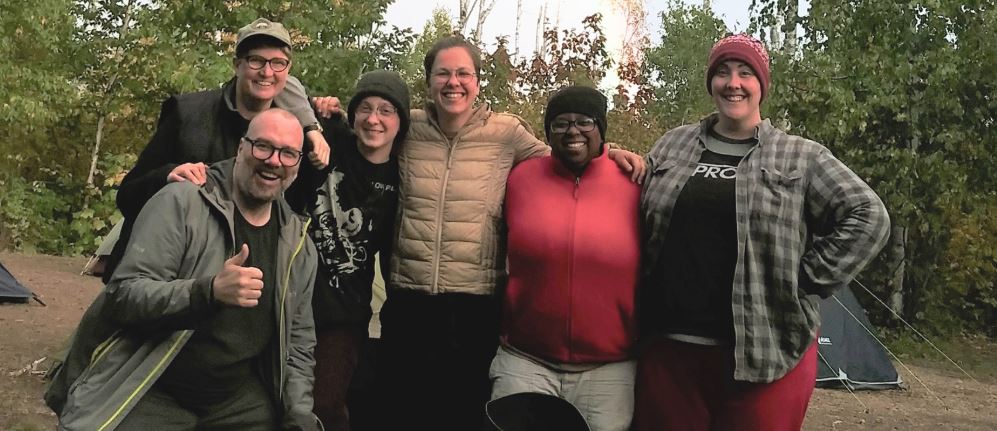 This September I began the Center for Prophetic Imagination's Certificate Program in Prophetic Spirituality. I first learned about this program when Peter Haresnape of the SCM suggested I apply. To be honest, I kind of did it on a whim because I thought it sounded weird and cool, and I certainly wasn't disappointed.
This 2 year program is comprised of five week-long intensives in Minnesota and two online classes, which explore different aspects of the Christian prophetic tradition and the call to justice as it is reflected in the Bible and in our lives today. This first intensive involved travelling to Minnesota to spend a week camping with instructors Ashe van Steenwyk and Laurel Dykstra and three other participants in Tettegouche State Park, with no cell phones or technology. Situated on the North-Western shore of Lake Superior, I could write a whole piece just about how beautiful the land was, and the joy of spending more time than I ever had being intentionally present in nature. But I digress.
Informed by critical anti-capitalist and anti-colonial perspectives, Ashe and Laurel presented a compelling course that was engaging, thought-provoking and placed a strong focus on self-reflection. Each morning we got up at dawn, cooked together and washed up, and then Laurel would teach a class about wilderness prophets in the Bible. We would then cook and eat lunch, and afterwards Ashe would discuss what we would be reflecting on for the afternoon. Each day we would be given a topic, idea or suggested activity to guide us, and spend between 2 and 4 hours in solitude on the land exploring, reflecting, journaling, and doing spiritual exercises. Afterwards we would cook dinner and spend the evening in circle discussion, usually around a fire, reflecting on what we had learned that day.
The experience was honestly very enlightening. The instructors and the participants each were seeking justice and Christ through their work in very different ways, and I think I learned as much from the other students as I did from the course itself. The entire experience balanced the exploration of grief and the call to building hope and resiliency in our work, and left us with the understanding that we each have a prophetic call and vocation in our lives – qualities and gifts that only we can give to our communities in our collective work towards justice.
This was only the first course of the program and while I don't know what to expect from the rest of it, I am excited to see where it takes us. The next class, The Spirituality of Empire, is an online course running through January and February 2020 and the next intensive, Learning Compassion, will be in May. Each of these courses and intensives, except the final intensive, is open to attend individually without having to register for the full program. So for anyone who might be looking to do something weird and cool and learn more about themselves and the prophetic tradition, I would highly recommend signing up for a course with the Center for Prophetic Imagination.
Lane Patriquin