– Calling all Dirty Computers –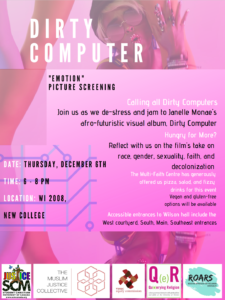 Join us as we de-stress and jam to Janelle Monae's afro-futuristic 
      visual album, Dirty Computer.
     – Hungry for More? –
       Reflect with us on the film's take on race, gender, sexuality, faith, and decolonization. The Multi-Faith Centre has generously offered us pizza, salad, and fizzy drinks for this event. Vegan and gluten-free options will be available.
DATE: THURSDAY, DECEMBER 6TH
TIME: 6 – 8 PM
LOCATION: WI 2008, Wilson Hall | New College
Accessible entrances to Wilson Hall include the West courtyard, South, Main, Southeast entrances.
This event is co-sponsored and in collaboration by:
||The Student Christian Movement||
||The Muslim Justice Collective||
||The Multi-Faith Centre||
||Victoria College Equity Commission||
||Queerying Religion||
||ROARS||