This September's Back to School Newsletter is now available online! You'll find the answers to such burning questions as: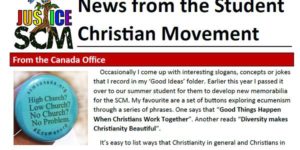 Why are we so obsessed with buttons?
What's up with the Cloud of Unknowing?
Who's going to Mexico City to discuss Migrant Theology?
[Note that answers may prompt additional questions]
Find out some of what SCM Canada has been doing this summer, check out our eight page newsletter. If you like what you read – Make A Donation!
And why not sign up to get our newsletters sent direct to your door? Send your address to info@scmcanada.org and we'll add you to the distribution list.
If email is more your thing, we send out a monthly newsletter. Sign up here
Whatever you're doing this September, study, work, rest, play – we pray for God's blessing on it. Thanks for being part of the Movement of God's liberating Spirit, here on earth.