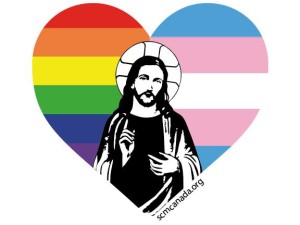 "Is that Jesus with the Trans Pride Flag? We should be friends" – coffee shop worker to their SCM colleague.
One of the easiest ways to boost the profile of the SCM is through the creative and humourous aesthetic of our 'swag'. Each year we create buttons, stickers, booklets and distribute them at tables on campus, via chaplains, and mailed out to friends across the country.
It's also one of the ways that we support the artistic and theological gifts of students, giving them the satisfaction of seeing their work in print in the various devotionals.
To get copies of our buttons, simply contact info@scmcanada.org or send a message through the SCM Facebook Page. Let us know what you'd like and how you'll use them, and we'll send you a package from our stock!
This year we have a bumper launch of three new collections of button designs!
The #Ecumenerd cluster explores the gifts and joys of the ecumenical movement, and particularly the ways we can understand God and the work of the people of God though our diversity and unity.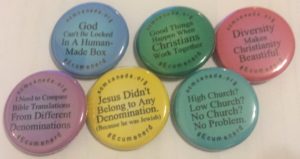 God Can't Be Locked In A Human-Made Box
I Need to Compare Bible Translations From Different Denominations
Jesus Didn't Belong to Any Denomination (Because He's Jewish!)
Diversity Makes Christianity Beautiful.
Good Things Happen When Christians Work Together
High Church? Low Church? No Church? No Problem.
Social Justice [Warrior] buttons. In recent years the dismissive phrase 'Social Justice Warrior' has been used online to disparage anyone expressing concern for the impoverished and oppressed. But of course, no movement succeeds with only Warriors – we need Bards, Clerics, Rogues and Rangers to make a well-rounded party of allies. Celebrating both the diversity and the sense of fun of anti-racist, feminist, decolonization-minded communities, we created these buttons.
Designs available: "Social Justice…"
Finally, we created a set of buttons to honour SCMers who have taken on leadership roles or have overcome obstacles in their time with the Movement. We can now award The SCM Badge for Excellence in everything from Public Speaking, and Poster Making, to Leading a Service, or Interfaithing, and of course, the ever-important Surviving Church Politics.
Contact us to nominate a recipient or propose a new award!