Food for Thought – Transfigurations
Written and performed by Peterson Toscano, director Samuel Neff, March 2017. Screening at Bloor St United, February 13, 2018.
Pancakes, scripture and conversations were all to be enjoyed with the SCM on Pancake Day, 2018. After a shared meal with Bloor St United Church, SCMers gathered for the screening and discussion of 'Transfigurations' by scholar-actor-activist Peterson Toscano. The one-person play looks at a variety of characters in the Bible that appear to transgress gender roles and provides plenty of food for thought.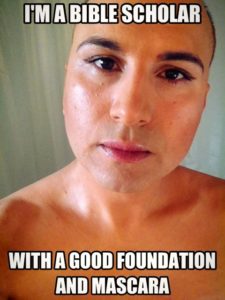 Toscano has toured extensively with this play and others, including in Toronto some years ago, hosted by the local SCM groups. His play Transfigurations was retired recently and committed to film, with the DVD available from the Quaker publisher Barclay Press.
It makes an excellent film for discussion, with multiple sections depicting different Biblical figures, some significantly expanded and detailed, presented to emphasise the ways they do not conform to the gender norms of their society, or the gender roles projected onto their society by Biblical interpreters.
The lecture version of the performance also includes Toscano's commentary and insights into each story as well as some additional accounts of characters in scripture that are not expanded into full scenes. This gives a sense of the scholarship behind the interpretation, as well as an insight into Toscano's own perspective and inspirations.
Our discussion group was made up of sixteen participants, predominantly young adults from two SCM groups and members of local congregations. We were joined by a few people from Bloor Street United Church, who had graciously agreed to host our screening, reviving a long-standing partnership. Several of those who were at the Pancake Dinner decided to stay for the screening after hearing about it.
After viewing the film, we entered a time of open discussion. Initially, conversation centered around the new and surprising interpretations of often familiar stories, with one participant commenting humorously 'It was all new to me – well, I'm in the church, so I don't know the Bible at all'. Certainly, the performance made some of the familiar stories almost new, like Joseph in Genesis, and Desta, the name Toscano used for the Ethiopian eunuch in Acts 8.
The opening performance was the story of Deborah, the judge and warrior. Toscano represented Deborah as someone who was neither man nor woman, but a powerful individual who mediated between. Our discussion explored the possibility that this interpretation eroded some of the feminist power of Deborah's story as a women who resisted patriarchy.
Likewise, the exploration of the world of the eunuchs and court officials scheming behind the scenes in the story of Esther potentially detract from the courage and resoursefulness of Esther herself. Our reactions helped underline how few are the positive stories of women in the Bible, and how this sparse representation has required feminist theologians to be both bold and imaginative in their interpretations. Hopefully, Toscano's own work will not overwrite or oppose feminist readings of scripture, but uphold and support.
The group discussed how 'Transfigurations' functions as one translation among many, recognising that although 21st Century conceptions of gender can't be uncritically projected onto the past, these types of reading must be available to those seeking to take the Bible seriously. Toscano often comments that he does not know the full meaning of each instance of gender-variant behaviour or presence, and we appreciated this capacity to avoid 'absolutes'.
Understanding Toscano's presentation as one translation among many also welcomes the possibility of other voices, especially those of non-Western cultural perspectives. We discussed how the strict definition of both gender and sexuality is a function of imperialism and colonialism, and that decolonising scripture is another way to make space for variant readings.
The evening was a very informative experience, and we hope that our experience will encourage others to hold screenings. The DVD can be ordered online from Barclay Press (click here)
When the study guide is available it will be posted on the SCM website.