It's 9am and you can smell toast, eggs and jam in the air. The sun is streaming through the big window that looks out onto rue University, and the common room at the college is abuzz with laughter.
Friday, September 15, was the soft launch of the Holy Toast / La sainte rôtie breakfast worship service. The liturgy was fresh off the printer, meaningful, riddled with mistakes (including Jesus. The daughter of God—en Française) and bilingual. The jam was all homemade (apple pear and peach) and deliciously smeared across crispy pieces of toast. There were homemade muffins, murmured confessions, and loud happy singing. Though the group was small, eight core people, it was filled with hope and humility. As well, eight was a great turn out considering breakfast with the former Archbishop of Canterbury was taking place a block away at the Anglican seminary.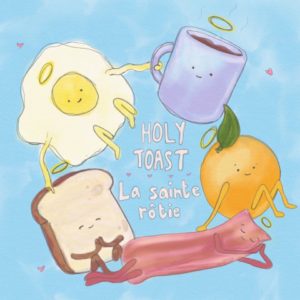 The group will be meeting every second Friday morning for the rest of the term. Sharing breakfast, stories, music and a little bit of our lives. The passion is to see a bilingual, contemporary, liturgical, social justice and totally LGBTQIA inclusive service available to folks from campuses in the downtown core. We're proud to have UQAM, UdeM, Concordia and McGill students as part of our community.
If you're in Montréal, considering joining us. There's always room at the table. 
The Holy Toast Community | La communauté de la sainte rôtie
Email the coordinator