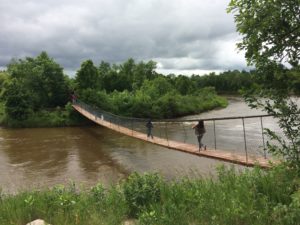 Is your congregation celebrating Peace Sunday this year?
International Day of Peace is marked annually on September 21, with marches, songs, mourning rituals and the call for an end to violence and warfare around the world. The closest Sunday is celebrated as Peace Sunday – this year, on September 24.
Mennonite World Conference has produced a packet of materials for worship leaders and preachers serving their congregations on that day, using the text of Ephesians 2:11-22 and the theme of Building Bridges.
Are you involved in preaching, worship leading, or other aspects of serving at church?
Letter of Invitation – – – Link to Worship Resources – – – Website (with link to photo gallery)
The package includes song suggestions, scriptural analysis, photography, sermon suggestions and themes, liturgies and worship activities, and inspiring, challenging accounts of peacemaking and reconciliation around the world.
If you use these resources, please let the MWC Peace Commission know (details in the Letter of Invitation) and share the news with us at SCM – we would love to share your pictures and stories!