The SCM's local units are the heart of the Movement. We are so fortunate to have a cadre of coordinators who share their passions and skills. Local units offer programming designed for the specific context and capacity they work in, but they all share the SCM's committments to anti-oppressive practice and creative, liberatory, inclusive spirituality in the radical Christian tradition.
SCM McMaster – Beck
Beck Bauman became involved with SCM after attending the Cahoots festival in 2016, and they were the summer student assistant that summer. This year, they are working on setting up the SCM at McMaster in Hamilton!
Beck is passionate about the arts (in too many forms to keep up!) and their capacity to tell stories and heal hurting relationships. They write poetry and non-fiction at the intersection of faith, social justice, mental health, and queer identity, and enjoy outdoor adventures and music, especially songs where the words reflect liberation theology and a commitment to restoration and justice. In the summer, they can be found reading as many books as possible and making fun culinary experiments, neither of which they have enough time to do fully during the school year. Beck loves hearing the stories of friends and strangers and believes that tea is best served in mugs the size of teapots.
SCM Toronto – Esther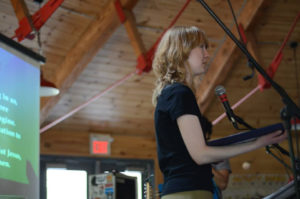 Esther is an alumna both of York and U of T, who first connected with SCM while helping to organize the Cahoots Festival. She has a background in counselling psychology, but is most passionate about justice-seeking Christian communities – intentional and unintentional.
She is a member of the Jeremiah Community and The Dale in Toronto's Parkdale neighbourhood, where she has taken on roles from dishwashing to peacemaking to preaching. She enjoys singing, contemplative prayer, community kitchens, and creative actions for justice and peace.
You can reach her at esther@scmcanada.org. Don't hesitate to get in touch if you'd like to meet or share ideas!
SCM Montreal/MÉC Montréal – Selina
We're very excited to be announcing the relaunch of the Student Christian Movement of Montreal (Mouvement d'Étudiants Chrétiens de Montréal) in Fall of 2016!
Local Coordinator/Coordinatrice Locale Selina Mullin (McGill Theology Student and past SCM Ottawa member) has plans for a number of activities to start the school-year off with a bang. Folks will be gathering early September for a "When your Patron Saint isn't enough! / Pour quand ton Saint Patron ne te protége pas!" campaign–passing out condoms and messages encourage students to practice safer sex.
The group is also planning the release of the first of a series of zines entitled "Digestible Theology", inviting kitchen table theologians from the Montréal community and beyond to share short theological reflections. The Fall issue will be themed on "Creation Care", submissions or requests for more information can be made to mtl@scmcanada.org. You can also check out what the group is up to on their Facebook Page @scmmontreal.
SCM Ottawa – Emily
SCM Edmonton – Wynne
SCM Brock – Emilie