Turning Tables: A Young Adults Retreat on Jesus and Liberation- Fall 2016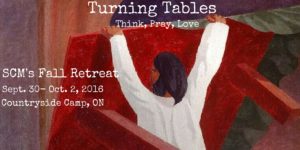 We invite you to "Turning Tables"– a fall retreat for young adults (18-35yrs) to explore what our Christian journey could look like if we engaged our minds, our spirit and the world around us. How does one live the faith-based life in the here and now while still yearning for the kin-dom of heaven?
We will explore the theme of Think, Pray, Love to tie our political and personal convictions with our faith rooted in the story of Jesus and the Resurrection.
THINK – We have the capacity and calling to explore our personal and political convictions about the world. We will look at our diverse identities as the body of Christ. What does feminism anti-racism and gender justice have to do with it all? How do we understand our position in a world that values money and status over justice and peace?
PRAY– We will reflect on our need to nourish our spirits and to connect with God and creation to prepare us for the journey. We will practice different forms of prayer to build our power together.
LOVE– Finally, we will examine how Jesus loved in his time on earth, and how we are called to love in the context of our world today. Love as action and movement and power and the purpose of God in the world.
This national retreat is a great chance to meet other young adults from across Canada who are passionate about faith-based justice! If you are coming from outside the province and need help with your travel costs, contact us!
In partnership with the Anglican Diocese of Toronto, Toronto South West and Southeast Presbyteries of the United Church of Canada, and the Ecumenical Chaplaincy at U of T.
---
When: Sept. 30-Oct 2nd, 2016
Where: Countryside Camp, Cambridge ON (1.5 hours from Toronto). We'll provide carpool from downtown Toronto, leaving around 3pm Friday.
Cost: $40.
Registration includes carpooling, stay in shared cabins, all meals and beautiful wooded surroundings! Go here https://www.eventbrite.ca/e/turning-tables-think-pray-love-tickets-25383148681
Facebook event: here
You'll need to bring sheets or sleeping bag and pillows. If you don't have them then contact us in case we have spares.
---