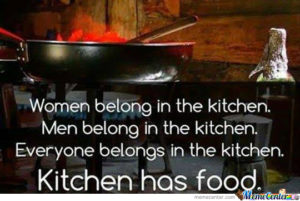 A Pinch of Salt… Everyone Belongs in the Kitchen!
Saturday Sept 23, 10am – 5pm, Toronto Islands
Do you ever feel like you don't quite fit in? Too nerdy for activism, too queer for church, or too spiritual for academia? Join a batch of other misfits who are cooking up a storm in God's kitchen where there's space for all of us – critical thinkers, inspired makers, passionate dreamers, grumpy prophets and more!
Register here through Brown Paper Tickets
Tickets cost $25. (reduced from the poster price of $30). This includes ferry ride to the island (and back!) and our lunch. If price is a concern, please contact us. We will meet at 9am at the Jack Layton Ferry Terminal to cross to Toronto Island, beginning our program at 10am.
We are using St Andrews-by-the-Lake, an Anglican church. It is wheelchair accessible. The Student Christian Movement is an ecumenical, anti-racist, queer-affirming, and feminist organization.
Morning: stations of the cook – we'll be taking turns on various hands-on activities, engaging in great conversation, creating and crafting and incidentally producing our lunch.
Afternoon: participate in workshops by Christian Peacemaker Teams as we explore issues of violence and injustice, and how we can respond using active nonviolence. Explore deeper issues of oppression and marginalization. How do these 'powers that be' function to preserve unjust social orders and oppressive economic systems? And what will we do about it?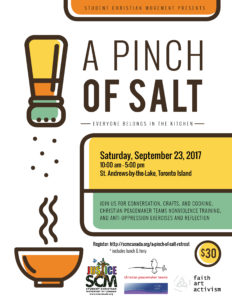 Facilitators:
Dr. Bob Phillips, a Mi'kmaq elder and educator, will be joining us for the morning for conversation.
Members of Christian Peacemaker Teams will be leading training focused on gospel peacemaking, nonviolent action and de-escalation.
Teddy Syrette will be leading a session on intersectionality awareness. Teddy is a 2-Spirit Anishnabek person of Batchewana First Nation of the Ojibway people.
Sponsoring Organizations:
The Student Christian Movement is a youth- and student-led grassroots, ecumenical network passionate about social justice, community in diversity, and radical faith in action.
Christian Peacemaker Teams partners with nonviolent movements around the world to transform violence and oppression. Teams currently support local peacemaking communities in Colombia, Palestine, Iraqi Kurdistan, Lesbos, and Turtle Island.
The Ecumenical Chaplaincy at the University of Toronto, rooted in the traditions of The Presbyterian Church in Canada and The United Church of Canada, offers friendship and support to the university community.
The Faith, Art, and Activism Festival, organized by the Church of St Stephen-in-the-Fields and the Trinity College Chaplaincy, explores the interactions and contradictions between religious faith, artistic practice, and action for social justice.