Happy September and welcome back to school! I hope everyone's had a great summer.
I am truly excited this fall to start the school year with an amazing team! Edna Bovas, brilliant theologian, artist and worship leader, will be joining me as co-ordinator at U of T and York this semester. Caroline John, passionate environmental advocate and outreach dynamo, will be partnering with Rev. Dawn Leger to launch an SCM chapter at Ryerson University. Lucky Obasuyi, SCM Nigeria's Director of International, Interfaith and Government Relations, will be contributing his energetic and visionary leadership at York University this year. Amy R. continues to offer dedicated and creative leadership at York as well.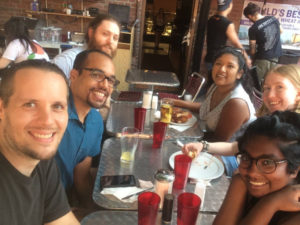 In a variation on our usual Radical Bible study, we're looking forward to meeting weekly this fall to reflect on Unsettling the Word, a new anthology of "biblical experiments in decolonization." The book features over 60 contributors, Indigenous and settler, Christian and non-Christian, including our own SCM Canada General Secretary Peter Haresnape. We hope to wrestle with Christianity's colonial legacy and explore how we can reclaim the Bible from oppressive theologies. In short, we will be asking, can the Bible be an instrument of liberation for colonized people? (Hint: Most of stories we read in the Bible are about colonized people!)
We're also looking forward to just hanging out and being community, starting with next week's board games night at U of T. Hope to see you around!
-Esther Townshend, SCM co-ordinator at York and U of T