Student Christian Movement Spring Gala
April 28, 6pm
Multi-Faith Centre University of Toronto
569 Spadina Ave, Toronto, Ontario M5S 2J7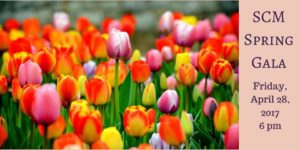 Students, alumni, and senior friends are invited to a celebration of the Student Christian Movement's history and future at the University of Toronto and York University. If you have been part of our community this past year, if you have great memories of SCM, or if you'd like to learn more about what we do, this is for you!
We will be celebrating the end of the academic year together with music, prayer and reflection. A delicious dinner will be catered by the Afghan Women's Catering Group.
REGISTRATION
Buy tickets or register at Brown Paper Tickets.
Students are welcome to attend for free, but please register so that we know that you're coming.
Regular tickets are $25. (Please contact esther@scmcanada.org if you need a special rate.)
And if you're able to be generous, please consider contributing $15 to pay for a student's dinner.
The Multi-Faith Centre is wheelchair accessible. Please feel free to email esther@scmcanada.org if you have any questions.
Hope to see you there!