Support SCMer Rebecca Bauman, a participant in the Pilgrimage for Indigenous Rights!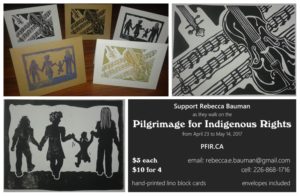 From April 23 to May 14, 2017, I'll be walking 600km from Kitchener to Ottawa with the other participants in the Pilgrimage for Indigenous Rights. We are walking in the hope that Canada will adopt and implement the UN Declaration on the Rights of Indigenous Peoples, and along the way, we will be stopping in communities to learn, teach, pray, build community, and work to heal relationships.
In order to alleviate some of my costs associated with the Pilgrimage, I am selling lino block hand-printed cards. I invite you to support me as I walk and acquire some fun, local art as well! Perfect to keep on hand for when you want to send someone a short note or special occasion wishes.
Cards are $3 each or four for $10, and come in a variety of colours. Contact Rebecca Bauman at rebecca.e.bauman@gmail.com or 226-868-1716.